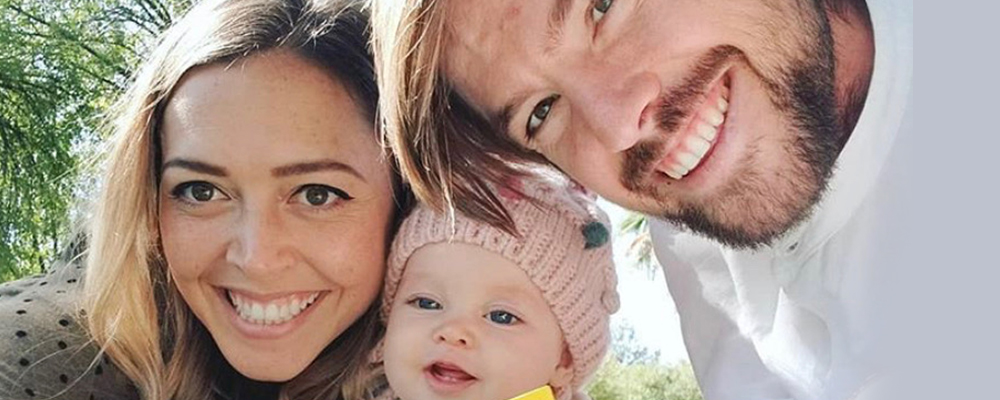 Diane's help with sleep coaching changed my world! As a super nervous first time mom, I was convinced I had "ruined things" by allowing my 5 month old daughter to co sleep and holding her during naps. I wanted to "sleep train" and get my daughter in her own crib/room so I could have a life again but was terrified . Diane not only coached me on what to do with the baby but helped us as parents with the mental stress of getting your baby to sleep. She was very available and helped us everyday modify our plan to what worked best for our family. Within a couple weeks, our baby went from nursing 8 times a night and never having slept in a crib to sleeping 12 hours in her crib with only one feeding (by choice)! I would highly recommend Diane for a personalized approach -one size fits all to sleep coaching isn't the only way!

~ Keely, mama of a 5 month old



Our work with Diane completely changed our reality! Before working with her, our girl was still waking up every two hours (at 21 months) and Mom would need to nurse her back down to sleep. After nearly two years of this kind of sleep deprivation, something needed to change. We were hesitant to use any kind of sleep training but this method felt gentler than others. Diane held our hand the whole way through the process. Admittedly we were daunted at the beginning, but after a few days, we began to see changes and then soon enough our girl began sleeping through the night! We couldn't believe it. Thank you Diane for your compassionate care and helping our whole household get better sleep! We are very grateful! 

~ Alia, mama of 21 month old



Yay!!!!! You've been amazing to work with Diane! Thanks so much for your tailored plan for our family! We feel so much more confident about how to set Maya up for a good night sleep and your help has removed our anxiety around her wakeups. We feel very prepared to get right back on the plan if we ever get derailed

~ Nina and Frank, parents of 7 month old



Before connecting with Diane, our baby had been waking 3 to 5 times a night for a couple of months. The amount of sleep we were getting was no longer sustainable and we were desperate for a solution. We also felt very lost in the world of sleep training. One thing we did know was that we did not want to have our baby "cry it out" at night - we wanted a more gentle approach. 
Diane's gentle approach to addressing our babies sleep is exactly what we were looking for! Working with her has given us skills that we will be able to use with our baby as she grows. Our baby is now able to connect her sleep cycles and we have seen leaps of improvement in both our baby's daytime naps and night time sleep! 
Diane is extremely knowledgeable and explained to us essential information regarding sleep but also baby development! She was incredibly supportive throughout the entire sleep training process and really took the time to address our concerns or areas we were struggling in. We could not have done it without her and we are so happy to have found her! 

~ Samantha, mama of 6 month old



Three weeks ago, I began working with Diane to re-set my daughter's sleep patterns. She is 2.5 years old, and had horrible sleep habits. She fought bedtime, and woke up at 2 or 3 am five nights a week, and then refused to go back to bed until almost 5am. Furthermore, she was taking 'disaster naps' that were either way too short, or hours too long. This was not sustainable, and we were both exhausted, cranky, and desperate for help!
Diane's coaching, and customized plan, along with daily check-ins, and feedback were a life saver! Within a week, my daughter stopped fighting her bedtime routine, and adjusted her sleep patterns to go to bed a full hour earlier, with minimal fuss! Diane worked with me step by step to integrate the 'sleep lady shuffle' into our bedtime routine, and checked in with me every step of the way as we gradually moved from her bedside, to a more independent schedule.
By week 2, my daughter adapted to a modified nap schedule, and even happily says, 'nap time' when she knows her body needs rest. She has taken ownership of her rest patterns, and is more in tune with her sleep-needs.
She now goes to bed without a fuss, and is able to quiet herself down at bedtime, and naptime! Her attitude, demeanor, and overall joy have improved drastically.
Working with Diane was such a blessing- she was incredibly patient, knowledgeable, and offered flexible suggestions to adapt to my daughter's responses as we adjusted her sleeping patterns. I have seen a huge, positive, change in my daughter's behavior, and in her willingness to listen as a result of her increased sleep! I cannot thank Diane enough for the positive change she has made in our life, and for the 'toolbox' of skills I have learned to help my daughter (and consequently me!) sleep!

-Alessa, mom of a 2.5 year old



Before starting coaching with Diane, we thought we were "getting by" with our toddler's sleep. It wasn't until we started to really explore the challenges of every day life with rough, unpredictable sleep patterns and started to make positive changes that it became obvious how much we'd resigned ourselves to just surviving. Coaching and support from Diane has changed so much for our family. It's improved my postpartum depression more than anything else has thus far. Getting into a regular routine and having confidence that our child will sleep well and be more rested and happy is priceless.

-Jamie and Sean, parents of 15 month old



You will not regret doing the amazing training with Diane.
It will be challenging, but with her support and guidance she will help you through every step of the way.
My wife and I have a 16 month old who was nursing up to 5 times a night, while  also sleeping with us in the bed.  After 3 weeks of Diane's program our daughter is now sleeping in her crib every night and no longer waking up to breastfeed.  It has changed our lives for the better and made it so the whole family is now getting good quality sleep!  You seriously can not put a price tag on that!  Thank you Diane for all your help and hard work!

-Taylor and Katy, parents of a 16 month old



Working with Diane as our gentle sleep coach was wonderful! She was genuinely interested in our current sleep approach and excited to help! I knew we were in good hands and were going to receive great advice to help us move forward with Caroline's sleep schedule after our consultation. I love that she continued to reassure us that we had a pretty good sleep routine in place but with just a few tweaks we could see some improvement. It's now been about 3 weeks and Caroline has slept through the night every night since then! She was right, we needed her advice on a few of those tweaks and it worked!

-Brianna, mom of a 22 month old